There's something about two guys and a girl that just forms the perfect tripod for YA inspiration. This week I read three books that balance on that base, resulting in tears, hilarity and a little inspiration.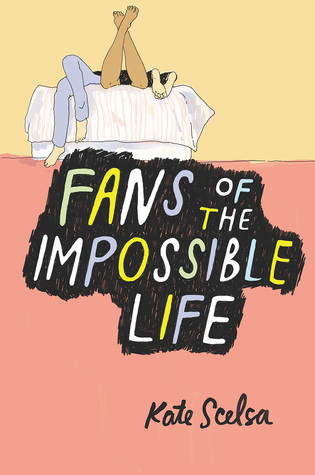 Fans of the Impossible Life
by Kate Scelsa features Mira, Jeremy and Sebby (depressed, arty and closeted, and fabulous and troubled, in that order). Jeremy's story is told in the first person, Mira in the third, and Sebby's in the second person, to interesting effect. (I learned from a
Q&A
with the author that Sebby is partially inspired by Sebastian in
Brideshead Revisited
, which I first read in high school and which actually pops up in my day-to-day thoughts with surprising regularity.) Anyway, the three of them are somewhat predictably damaged by struggles with mental health, or with hateful bullying, or with more external challenges (Sebby has substance abuse issues and gets kicked out of his foster home, which, hello again there, Brideshead!). But the writing is strong, I cared about the characters and the fact that everything isn't totally tied up in a happy bow is a welcome ending. So that's a yay.
Also a super-yay is
The Haters
, by Jesse Andrews. I haven't read or seen
Me and Earl and the Dying Girl
, but need to now that I've laughed myself to tears with Ash, Wes and Corey as they seek out the most authentic venues to take their "band" on "tour. Funniest band names since King Dork. And oh, the Kool and the Gang segment was just so spot-on, I had to re-read it over and over again. I did have to angle my book just so to keep unsuspecting eyes from reading over my shoulder (didn't want anyone to get ideas about harming anyone's dicks, as was on abundant offer) but so very worth it. Hating is an art and it may be done to perfection here.
Finally,
Draw the Line
by Laurent Linn was much less outrageous than
The Haters
, but a little more uplifting and feel-good than Fans of the Impossible Life. Adrian, Trent and Audrey form this little triumvirate, but this book is really Adrian's story from start to finish. Adrian's secrets (he's gay, he's an artist, he draws an online superhero comic about Graphite, a sexy but lonely superhero seeking same) spill into the real world when he stands up for an classmate during a hate-fueled beating, but he begins to tap into the superhero powers he's had all along. In writing his friends and enemies into the comic, he starts to translate who people are into who they might actually be want to be. And of course, finds some Hunky Love along the way. The real treat in this are the comics along the way -- as in Brian Selznick's beautiful books, the story isn't complete without the art to go with it. I want Adrian to draw me as a superhero too!
In summary, I award
The Haters
the prize for snarkiest/most hilarious YA trio,
Fans of the Impossible Life
for Got Your Back Forever YA crew and
Draw The Line
for best alter egos in a fantasy feature. All utterly worth a read now.